IWMA member Ultra Fog recently received a "Highly Commended" for the 2019 Safety at Sea awards "Best Safety Product of the Year (FireFighting)"
"This category was newly created by 'Safety at Sea' magazine to highlight an issue that the editorial committee felt should be brought to the attention of the wider maritime community given the recent fire at
Laem Chabang Port on the MTC Hongkong containership – one of a number of incidents this year" says Ann Micheli, Managing Director at Ultra Fog Ltd. She explains: "Fire incidents not only impact assets but can also lead to a catastrophic loss of life and result in environmental disaster. The theme of this category will change each year to reflect a timely safety concern."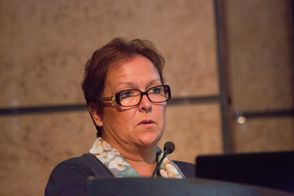 Ann Micheli
The product Ultrafog presented was its patented "nozzle tool":
The Ultra Fog Nozzle Test Tool responds to the risk of clogging from corrosion and detritus in the distribution lines, which can cause nozzle disfunction and ultimately system failure. The Ultra Fog Nozzle Test Tool was developed in line with the recently issued MSC.1/CIRC 1516 Amendments to the Revised Guidelines for the Maintenance and of Fire Protection Systems and Appliances (MSC.1/CIRC 1432) which
introduces the requirement to increase frequency of maintenance inspections and also to test each water mist nozzle by "breaking the bulb".
The Ultra Fog Nozzle Test Tool enables the testing without the need to break the bulb, thus simplifying the procedure and reducing maintenance time and costs. The Test Tool performs flushing and functional tests in under two minutes per nozzle. Fee-earning passenger cabins can be tested on a routine basis without having to be vacated, and the need to isolate entire fire zones in order to perform routine maintenance can be avoided. This reduces costly down-time in vessels during voyages, and facilitates the ability of crew to perform on-going maintenance during navigation.