Since 2016 the International Water Mist Association (IWMA) offers an award to promote young talents.
The specific conditions, rules and regulations for the year 2020 can be found HERE!
Please note: In 2020, the "IWMA Young Talent Award" will go to the author of the best master thesis.
The Award Winners:
2019: Topi Matti Sikanen for his Ph.D. thesis entitled: Simulation of Transport, Evaporation and Combustion of Liquids in large-scale Fire Incidents
2018: no bestowal
2017: James Patrick White for his Ph.D. thesis entitled: "Measurement and Simulation of Suppression Effects in a Buoyant Turbulent Fire Line"
2016: Daniel A. Martin for his master thesis entitled: "The Use of a Water Mist Curtain as a Radiation Shield"
IWMA President Are Wendelborg Brandt and Bert Yu, Chairman of the IWMA Scientific Council hand over the IWMA Young Talent Award to Topi Sikanen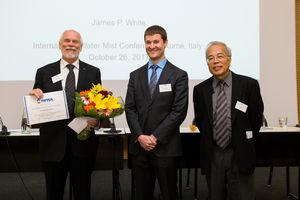 James Patrick White in Rome in 2017 together with IWMA President Ragnar Wighus and Bert Yu, Chairman of the IWMA Scientific Council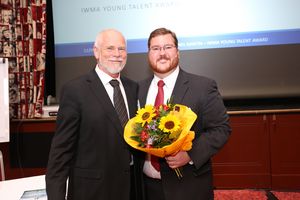 Daniel A. Martin in Vienna in 2016 together with IWMA President Ragnar Wighus