Water mist systems do not harm humans, are eco-friendly, sustainable, proven to international standards, flexible and reliable ... To show and proof just how reliable they are, IWMA has launched a mission to collect data.
The first fixed water mist systems were installed approximately 30 years ago. IWMA are of the opinion that it is high time to show that they do the job they have been designed for and would like you to join this project. If one of your customers has reported or reports a fire and your water mist system has saved lives, the building and/or jobs etc. please let us know the details.
Please find HERE the form that IWMA would like to ask you to fill in and submit.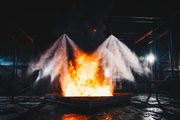 If you have any questions please do not hesitate to get in touch with the IWMA headquarter in Hamburg, Germany.