The Gare de Lyon in Paris, one of the most important and beautiful railway stations in Europe, is now protected with high-pressure water mist from AQUASYS. The system was installed together with the company's local and longstanding partner Uxello Risque Spéciaux, and has now been officially accepted.
Project description:
The system installation in the station concourse began in 2016 and was followed by several expansion phases and partial commissioning. In addition to generic fire tests according to the risk classification, the concept is also based on an independent CFD simulation by a notified body to prove the effectiveness of high-pressure water mist.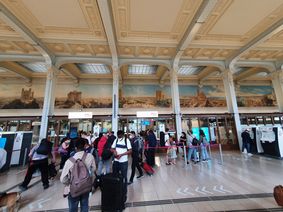 Remodelling work in the building and the opening of new shops in the station's listed gallery resulted in additional fire loads that could endanger its historic load-bearing elements in the event of a fire. As it was not possible to install pipes on the existing walls of the hall, Uxello Risques Spéciaux and AQUASYS developed and adapted to special constructions in the form of steel girders with built-in nozzles that would cool the hall structure if a fire broke out. The system had to be in accordance with the architectural conditions of the station.
Function:
The system is operated via pilot valves that allow multiple nozzles to produce water mist if the activation nozzle, which is equipped with a glass bulb, is triggered though rising heat. During the design process, it was demonstrated that the generated water mist from both the side wall and the hanging nozzles would fulfil the objective of protecting the hall structure from heat radiation. Attention had to be paid to the mounting of the nozzle piping to the artistic decorated walls. The tailor-made constructions by AQUASYS produced for this purpose could then be attached to the historic wall elements and columns. Overall, the partially prefabricated piping system and the individually coordinated nozzle concepts made an innovative solution possible, meeting all the criteria for a low aesthetic impact on the architectural ensemble. The central pump unit installed in the station's technical room is supplied via the public water supply and buffer tanks. Compact and maintenance-free high-pressure pumps provide the 100 bar nominal pressure of the system.